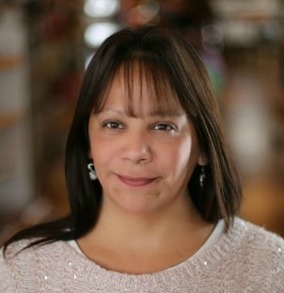 AMAZEworks is excited to have Cheryl Minnema's book Hungry Johnny in the release of our newly revamped elementary curriculum. Cheryl Minnema (Waabaanakwadookwe) is a member of the Mille Lacs Band of Ojibwe. She was born in Minneapolis and raised on the Mille Lacs Reservation. Along with writing children's literature and poetry, she creates Ojibwe floral beadwork and nature photography. She is the author of Hungry Johnny as well as Johnny's Pheasant, which won the 23rd annual Charlotte Zolotow Award for outstanding writing in a children's book. Hungry Johnny is a beautiful book that provides windows and mirrors into the American Indian (Ojibwe) experience, multigenerational relationships, and community while giving the reader and child an opportunity to explore the anti-bias education tenets and SEL competencies of empathy & understanding, healthy complex identities, respect across difference, self-awareness, and self-management. 
We had the opportunity of getting to know Cheryl through her beautiful responses in this question and answer session:
AW: What inspires you to write children's books – and Hungry Johnny in particular?
CM: I'm inspired by the memories of growing up and not having nice books to identify with. All the books that included "Indians" were only in history books, and we as Indigenous people were misrepresented through stereotypes. The story of Hungry Johnny is inspired by my memories of grandma and my little brother Johnny. We were close with our grandmother and learned a lot of Ojibwe language and traditions from her while growing up. There were many memories of humorous moments that I enjoy building a story around. 
AW: What is your hope for children when they read this book? 
CM: My hope is for children to have fun hearing/reading the story of Hungry Johnny. I hope non-Native children appreciate the story as they would any other story, yet also gain a modern-day impression of Indigenous people instead of how older books portray us. I hope Native children feel proud to see themselves represented in children's literature. 
AW: What is your hope for educators/teachers/caregivers when they read this book.  
CW: I hope my stories help diversify children's literature in classrooms and educators/teachers pick up on the interlaced themes that can be used in teaching (respecting elders, appreciation for intergenerational relations, patience, humor, and how family structures are not always just mom, dad, child). I hope caregivers enjoy the characters and the experience of sharing the story is fun.
AW: Are you working on a book now?
CW: Yes, I have additional picture book manuscripts in progress and a young adult novel.
AW: Where can we buy your books and support your work? 
CW: Directly from the publishers (Hungry Johnny– Minnesota Historical Society Press, Johnny's Pheasant– University of Minnesota Press) or local bookstores such as Birchbark Books, Wild Rumpus and the Red Balloon.