Click here to access this collection of lessons on Native American/Indigenous identity and lived experiences.
Dear Caregivers and Educators,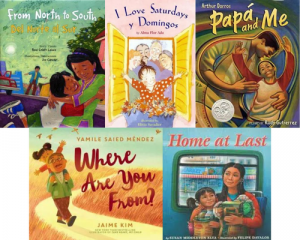 This collection of lessons on Latino/a/x identity and lived experiences serves as a resource to help guide conversations with children. Our young people are frequently impacted by the bias, hateful rhetoric, and violence targeted at marginalized groups like the Latino/a/x community, whether implicitly or explicitly. At AmazeWorks, we believe that building a healthy identity, learning to show respect across differences, and naming and taking action against instances of injustice all begin from honest, intentional conversations. We thank you for engaging in this difficult, yet invaluable work.
We also know the power of sharing stories. When we listen to each other's stories, we build empathy. This empathy is necessary if we want to shift our thinking from "their issue" to "our issue." When we take time to understand racism and discrimination in all its forms, we are better equipped to stand up to it. This work requires time and dedication. These books and lessons are a starting point. If you have additional questions or want more resources, continue to explore our website. 
In solidarity with all who strive for equity and belonging,
AmazeWorks
This resource includes lessons on the following books: Papá and Me, written by Arthur Dorros and illustrated by Rudy Gutierrez; I Love Saturdays y domingos, written by Alma Flor Ada and illustrated by Elivia Savadier; Where Are You From? written by Yamile Saied Méndez and illustrated by Jaime Kim; Home at Last, written by Susan Middleton Elya and illustrated by Felipe Davalos; and From North to South (Del Norte al Sur), written by René Colato Lainez and illustrated by Joe Cepeda.