Click here to access this collection of lessons on Native American/Indigenous identity and lived experiences serves as a resource to help guide conversations with children. 
Dear Caregivers and Educators,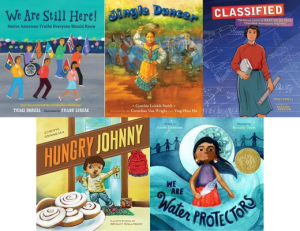 The identities and lived experiences of Native peoples are often made invisible, erased, and relegated to the past in our school curriculums and communities. At AmazeWorks, we believe that building a healthy identity, learning to show respect across differences, and naming and taking action against instances of injustice all begin from honest, intentional conversations. We thank you for engaging in this difficult, yet invaluable work.
We also know the power of sharing stories. When we listen to each other's stories, we build empathy. This empathy is necessary if we want to shift our thinking from "them" to "us." When we take time to understand the impact of identity-based bias and discrimination, we are better equipped to stand up to it.
This work requires time and dedication. These books and lessons are a starting point. If you have additional questions or want more resources, continue to explore our website. 
In solidarity with all who strive for equity and belonging,
AmazeWorks
This resource includes lessons on the following books: We Are Still Here! Native American Truths Everyone Should Know, written by Traci Sorell and illustrated by Frané Lessac; Jingle Dancer, written by Cynthia Leitich Smith and illustrated by Cornelius Van Wright and Ying-Hwa Hu; Classified: The Secret Career of Mary Golda Ross, Cherokee Aerospace Engineer, written by Traci Sorell and illustrated Natasha Donovan; Hungry Johnny, written Cheryl Minnema and illustrated by Wesley Ballinger; and We Are Water Protectors, written by Carole Lindstrom and illustrated by Michaela Goade.