2021 brought new challenges, but it also demonstrated the power of resilience. To counter our negativity bias as we reflect on the past year, we curated a list of 21 Things to Celebrate from 2021. We hope this list helps you remember collective and individual moments of joy, growth, and celebration from 2021.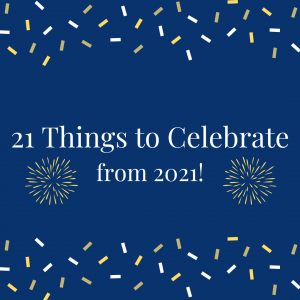 MN Celebrations
Local anti-bias educators, artists, creators:
2. Black Garnet Books, Birchbark Books, Boneshaker Books, Moon Palace Books
3. Mille Lacs Band launched a language revitalization project and released a series of books written in Ojibwe dialect
4. Suni Lee becomes first Hmong American to win Olympic gold medal
5. Minneapolis schools launch Somali Heritage Language Program
6. Sacred Sites Tour – Healing Minnesota stories
Books/Podcasts/Films that inspired us
7. Burnout: The Secret to Unlocking the Stress Cycle by Emily Nagoski and Amelia Nagoski
8. Disability Visibility: 1st Person Stories from the 21st Century by Alice Wong
9. The Racial Healing Handbook: Practical Activities to Help You Challenge Privilege, Confront Systemic Racism, and Engage in Collective Healing by Anneliese Singh
10. Braiding Sweetgrass: Indigenous Wisdom, Scientific Knowledge, by Robin Wall Kimmerer
11. The Happiness Lab with Dr. Laurie Santos podcast- understanding the science of happiness
12. The Moth podcast – real stories by real people that create empathy and understanding for ourselves and others and help us see past differences to better see each other's humanity
13. Crip Camp: A Disability Revolution documentary about Camp Jened, an overnight summer camp for teenagers with disabilities, in the 1970s and the origins of the Disability Rights and Disability Justice Movements
Quotes to live by
14. "We can disagree and still love each other, unless your disagreement is rooted in my oppression and denial of my humanity and right to exist." – Robert Jones, Jr.
15. "Relationships happen at the speed of trust, social change happens at the speed of relationships." Jennifer Bailey
16. "Stop walking through the world looking for confirmation that you don't belong. You will always find it because you've made it your mission. Stop scouring people's faces for evidence that you're not enough. You will always find it because you've made that your goal. True belonging and self-worth are not goods; we don't negotiate our value in the world. The truth about who we are lives in the world. The truth about who we are lives in our hearts. Our call to courage is to protect our wild heart against constant evaluation, especially our own. No one belongs here more than you…True belonging doesn't require you to change who you are; it requires you to be who you are." – Brené Brown, Braving the Wilderness
17. "I claim my identity and personal journey as a source of strength and insight for this work…and also as the basis for my biases." -Shakil Choudhury, author of Deep Diversity: Overcoming Us vs. Them
And more
18. Black Lives Matter gets nominated for a Nobel Peace Prize.
19. Juneteenth becomes a national holiday.
21. AMAZEworks released new book sets, free lesson plans, and two new Persona Dolls–Daniel and Amara.
22. AMAZEworks exceeded our Give to the Max fundraising goal of $10,000, helping us in our mission to champion equity and belonging for all!