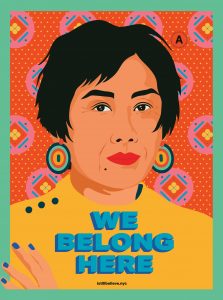 Here we are again. Responding to identity-based hate and violence an organization, as a community, as a nation, and as individuals trying to process, reckon with, and respond to another spate of mass shootings, one of which was rooted in racism and misogyny towards Asian American women in large part because of the past year's denigrating rhetoric against Asian Americans and Pacific Islanders (AAPI).
At AMAZEworks, we are grieving the loss of these lives. We are grieving the racism, sexism, and other systems of oppression that undergird these violent acts as a part of a polarizing narrative of fear and hate of difference that pits neighbor against neighbor. We are grieving the continued 'othering' of communities of color, the LGTBQ+ community, immigrant communities, and Muslim and Jewish communities. And we are grieving that this is the world that our children are growing up in.
AMAZEworks stands in solidarity with the Asian American and Pacific Islander community, and we understand that this moment stems from a long history of anti-Asian racism and violence. AAPI communities are often overlooked, silenced, and made invisible, especially in our education systems.
For me as a Korean American adoptee growing up in a White family in White middle-class suburban communities, all I wanted was to be White, preferably with blonde hair and blue eyes like Meg Ryan from When Harry Met Sally. As an adult, I have had to come to terms with the anti-Asian internalized racism that grew in me as I struggled to find belonging in a White world that didn't inherently include me. I used to consider the comment, "I don't see you as Asian; you're just normal," was a compliment.
Growing up, there were few popular images of Asians in the media at the time, mainly Bruce Lee and Connie Chung, a Chinese American newswoman who was the only Asian American female "celebrity" that I was aware of.
School didn't help either. My understanding of Asian anything came from country studies units in grade school during which I got very good at drawing the Korean flag and finding South Korea on a globe. Asian topics seemed foreign/exotic, far away, and relegated to the past. U.S. history included Asian immigrants and Asian Americans as mere footnotes – the gold rush, transcontinental railroad, Chinese Exclusion Act, Japanese American internment camps, and maybe the Vietnam War. Nothing at all about the everyday contributions of Asian Americans, and definitely nothing about Korean Americans specifically because "No, I'm not Japanese" and "No, I don't speak Chinese."
So I can't help but wonder – what if I had had more mirrors in my classrooms and schools where I could have seen myself positively reflected in the world? How would that have changed how I saw myself and believed in myself as fully human, not just the shadow of the dominant norm of White racial identity? And what if my White peers had had my mirrors as their windows, so that their understanding of and ability to relate to the full range of AAPI lived experiences could engender empathy, trust, inclusivity, and community instead of otherness and, even worse, suspicion and hate? How would that have changed the trajectory of the anti-Asian racism and violence that we have seen bubble up again in the past year and that resulted in the loss of six Asian American lives last week?
Of course, my story is not unique. Millions of non-White children have grown up in America with their histories and cultures stereotyped, made invisible, erased, or outright lied about in American schools. This is why the tragedies of the past week have reaffirmed our commitment at AMAZEworks to supporting educators, caregivers, and learners of all ages through Anti-Bias Education and creating the conditions for belonging.
We encourage you to talk with your children and students about the history of race and racism in our country and the ways in which identity, difference, power, and privilege have served to reinforce systems of oppression against anyone who does not fit the dominant norm of who is considered to be a "real American" in our country.
If you haven't begun these conversations yet, it's not too late. By creating space to have brave conversations about what's really happening in the world, you affirm your commitment to this important Anti-Bias Education work and you equip children to name, notice, and reject bias in all its forms. You also help to break the cycle of fear, mistrust, hate, and violence towards historically marginalized peoples. This does not have to be the world our children are growing up in.
Here are some resources to support your discussions, as well as resources that affirm the identities and lived experiences of Asian Americans.
CLICK HERE: AMAZEworks Book Lessons for Caregivers to Affirm Asian American Identities and Lived Experiences
Navigating Conversations About Anti-Asian Racism and Violence
Resources for Adult Learning and Action
Resources for social-emotional/self-care support:
Social Media Influencers to follow:
Artistic Outlets
Image credit: Amanda Phingbodhipakkiya
Resources updated May 4, 2022