Dear AmazeWorks community,
We are so excited to welcome the month of June and with it, Pride Month and Juneteenth. June's holidays embrace JOY and encourage us to take pride in our identities. Black and queer people continue to fight for their right to exist freely and authentically in our society. Pride Month and Juneteenth acknowledge the harm Black and LGBTQ+ communities have endured throughout history and today. They also center joy and celebration because they know that joy is life saving.
Throughout this month, how can you support joy for yourself and others? In what ways can you affirm all of the identities that make up who you are? We hope this month's resources to support LGBTQ+ and Black identities support you in exploring these questions and embracing joy.
Featured Program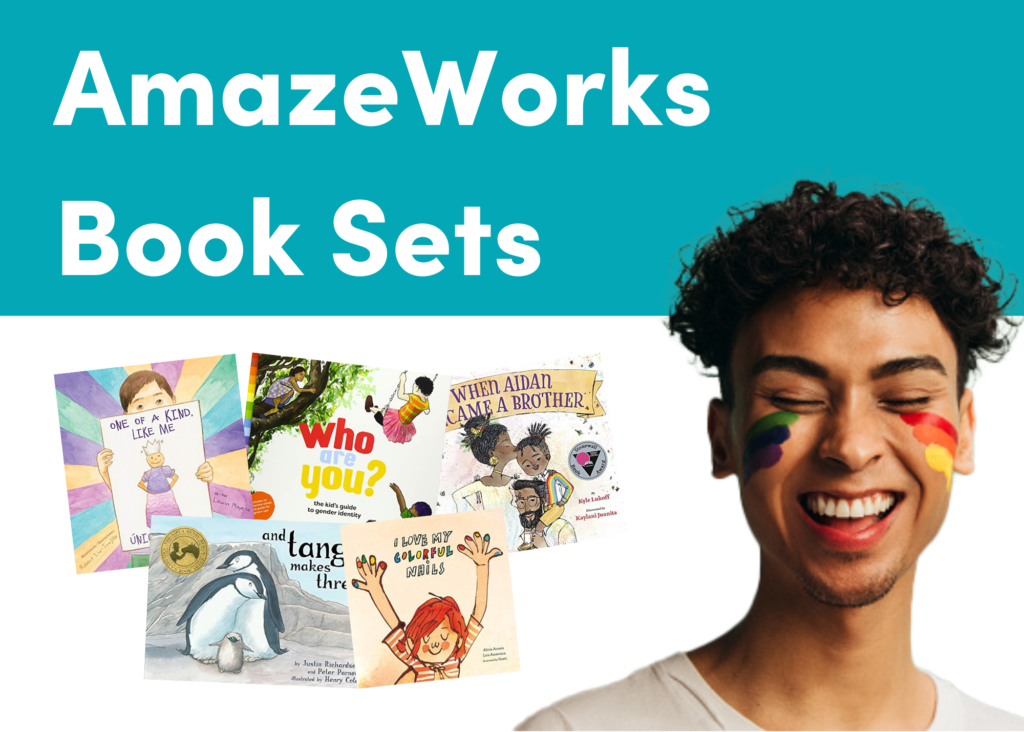 Resource for Caregivers and Educators
AmazeWorks "Understanding Gender Diversity" and "Supporting Children with Gay, Lesbian, and Bisexual Family Members" book sets include five books and lessons to help guide conversations with children around the diversity of gender identities and family structures within our communities. We know that pride is about celebrating all LGBTQ+ people. We also know that sexual orientation and gender diversity are often conflated. For this reason, we have one resource dedicated to gender diversity and a separate resource guide on gay and lesbian families.
P.S. AmazeWorks will soon be releasing a "Black Joy" book set… Be on the lookout for this resource later this month!
Ethos in Action
A Practice for Cultivating Your Anti-Bias Mindset, Skills, & Tools
Greater Good Magazine has a podcast series called "Happiness Break," in which they share 10-minute research-based practices to develop more compassion, resilience to stress, and moments of joy and inspiration. In this episode, Spring Washam leads a meditation inviting listeners to engage in the following steps:
Think about an area of your life that brings you joy, it could be anything.
Imagine yourself experiencing that moment of happiness. Feel the smiles, the peaces and laughters.
As you reflect on the moment, say to yourself, "may my joy and my happiness increase."
Next, practice "sympathetic joy." To do this, think about someone you know having a great experience.
As you think of them in their joy, say to them in your mind, "May your joy and happiness increase." Or you can also say, "I'm happy for your happiness. May your happiness continue."
Remember that happiness is infinite. Being joyful for others is a way to increase your joy.