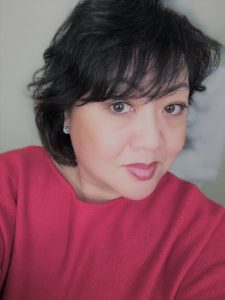 AMAZEworks celebrates KaYing Yang as one of our featured resilient women of 2021.
As a Hmong refugee who has worked for social and racial justice her entire life, KaYing Yang has cultivated a lifetime of resilience. KaYing's father had been a foot soldier for the CIA's Secret Army in Laos during the Vietnam War, and their family was one of the first families allowed to come to the U.S. as refugees in 1976. KaYing was 7 years old.
KaYing refers to "generational resilience" when she reflects on the resilience she learned from watching her parents learn to navigate a new country, new culture, and new language and cope with the loss of their homeland. "I think that, like trauma that can be passed down from one generation to another, resiliency can be passed down from one generation to another generation. I credit my parents with being so resilient –  to leave their own country, lose everything they have, and start over in this country.  And even though we were very poor, I never felt poor. They shielded and sheltered me so well that I actually had a very positive attitude about the world I lived in, even though it wasn't easy, and I saw that they faced a lot of discrimination. But nothing can be worse than surviving a war and leaving your country behind, so I have always used that as my measure for tolerance and survival. I think my strength comes from them and their generation."
KaYing experienced a lot of racism from her classmates and community growing up in Manitowoc, Wisconsin. As a little girl, she dreamed about a better world. She looked to role models like Martin Luther King, Jr., who was one of the only people of color she learned about as a child and who inspired her to change the world. "I knew I didn't want to grow up in a society where people were hateful and called me names every single day, and I felt so much hostility, and I knew that this world would not exist without me playing a role in it. I felt that I could be like a Martin Luther King, and I could also help inspire others to change the world so there wouldn't be any more hate."
She often felt invisible in her classrooms, even at a college level, because most people in the 1980s and '90s did not know, let alone teach, about the Hmong, the aftermath of the Vietnam war, or the era of refugees. Once she learned more about her own history, she was driven to engage in social and racial justice work. 
KaYing's work with Hmong and Asian American communities in the nonprofit sector has taken her to Washington DC, Thailand, Laos, and St. Paul. She lived in Southeast Asia for 10 years working with Hmong and Karen refugees and helping them with resettlement for the International Organization for Migration. "That was a full-circle experience for me – to have lived in a refugee camp as a child and then go back as an adult to help other refugees. I am so blessed for that." Today, she works as the Director of Programs and Partnerships for the Coalition of Asian American Leaders (CAAL) and enjoys working with younger Asian American leaders. 
KaYing believes in the resiliency of every person and the importance of lifting up young people and reminding them of their resilience. "As a 10-year-old little girl living in the housing projects in Manitowoc, every single night I felt I could change the world, and nobody told me I could not until I started growing up. And people told me that I couldn't do that because I was a girl. That's when I started questioning myself and questioning patriarchy. Alone as a child in my room, I thought I had superpowers. But as soon as I went out into the world, people kept telling me I didn't have those superpowers. So I do think that our environment has such a huge impact on us, and our educational environments can inspire us or they can fail us. I try to look at the positive in people all the time. If we can harness that power and look at what's best in people, especially students, then imagine what we can do."
The most fulfilling part of KaYing's work has been knowing the difference that she has made in people's lives, whether they are refugees she helped resettle or students that saw her speak at a conference. "The fact that people care about how I think and my ideas and will invite me to speak brings me joy. And that my experience mattered and made a transformative impact on people's lives and sometimes on whole communities." 
One thing she is particularly proud of is her involvement in creating the Gates Millenium Scholarship which has provided a lot of educational opportunities to Southeast Asian students, including many of the Hmong refugees she helped resettle from Thailand. "I'm so proud of that because that's exactly why we wanted to help them come to this country to give them the opportunity to go to school. For me, it's really measuring the impact on the community. Whether they credit me or not, I feel such warmth in my heart knowing that I have had such an impact."
Thank you, KaYing Yang, for all you have done to create a more socially and racially just world for the Hmong and Asian American community here in Minnesota and across the world. We are so honored to learn your story and are inspired by your strength and resilience.