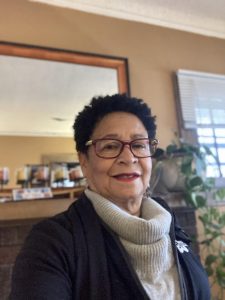 This month AMAZEworks celebrates Candace Whittaker as one of our resilient women of 2021. 
Born and raised in North Minneapolis alongside 10 siblings, Candace Whittaker has been sharing her gifts of resilience with our community for over 40 years. When asked to define resilience in her own words, she says, "It is the ability to bounce back after facing adversity, the loss of someone, tragedies that happened in a person's life, and everyday struggles."
"Resilience doesn't always come naturally", she says. "It is something you have to cultivate throughout your lifetime." Candace has had plenty of opportunities to cultivate resilience in her life. Aside from the systematic and individual racism she has experienced as a Black woman in America, she was diagnosed with breast cancer at age 53. Upon learning of her diagnosis, her first response was fear and denial. She had a hard time believing it was really happening to her. She was scared and in denial for weeks before she began to tap into her own resilience and realized that, "Yes, it was happening to me and I needed to face my fears and deal with it." Candace is now cancer-free. Her battle with breast cancer revealed to her and instilled in her a deep understanding and experience of joy and optimism as necessary resiliency skills. 
Candace has also shared this joy and optimism throughout her career, holding a variety of different positions that center and focus on supporting young people. Her childhood and adolescence paved the way for her career. As a young person growing up, she remembers participating in a lot of sports and activities at Harrison Park in North Minneapolis. The Park Director at the time became a true mentor, providing windows and mirrors for her through a variety of different experiences. She enjoyed going to plays, camping trips, swimming, and other sports. She was at the park so often that, at age 14, she was offered a part-time job at the park coaching the 11 and 12-year-old girls basketball team. She became a seasoned Minneapolis Parks and Rec coach and mentor herself as she continued to coach and lead basketball teams, softball teams, floor hockey teams, and camping trips for the next several years. 
During this time, Candace developed a love for working with youth and families and eventually became a Youth Director for the YWCA where she was able to continue providing support for young women, girls, mothers, and daughters. As her mentor did before her, she was now able to provide a wide variety of life experiences for young people, many of them opportunities they otherwise would not have had, such as skiing, bowling, rock climbing, and canoeing. 
Candace's career also brought challenges that required her to tap into her deep wells of resilience, as she has guided and mentored countless support groups and opportunities for young women and girls to speak up and share their own stories of resilience. She continues to use her voice and lived experiences to help encourage and motivate young people to embrace all of who they are with authenticity and vulnerability so that their experiences can inspire others.
Although overcoming cancer and workplace adversity have been challenging at times, it was the tragic loss of her nephew 3 years ago, almost to the day, that really put her resiliency to the test. In the days, weeks, and months following his death, Candace's ability to bounce back seemed inaccessible, and so she sought out new skills. She enrolled in an eight-week mindfulness-based stress reduction class, which taught her how to focus on the present moment. She learned deep breathing techniques and the art of body scans to help relieve stress and pain. She began practicing mindful yoga and focused on healing. "Like healing," she says, "resilience is an ongoing process." 
When asked what she thinks people most often get wrong about resilience, Candace said, "Often people think it is something you get from the outside looking in, but the truth is, it comes from your inner self, your will, and lived experiences." And she's been gathering a lifetime of experiences. "I knew as far back as grade school that I was being overlooked in the classroom. We (African Americans) were often overlooked when it came to answering questions. It gave me self-doubt that I wasn't able to answer the questions. It made me think that maybe I wasn't smart enough, but being raised by caring adults who consistently reminded us we were special, smart, and beautiful always outweighed the negative messages. My experiences have made me stronger and wiser. Facing difficult situations head on has taught me a lot about dealing with discomfort and what it takes to make things better for myself."
What she found to be true in the hardest of situations is what she now shares with us, her community, and the young people she works with. Her advice: 
Focus on your strengths. Remind yourself of what you are good at. 

Talk to someone. Or listen to another's story. 

Volunteer with something that matters to you.

Journal.

Do something you enjoy.  

Be kind to others.

Perhaps more importantly, be kind to yourself.

Practice positive self-talk.

Practice gratitude. Find the little things that you were grateful for every day and write them down. 

Nurture empathy.

Take small steps to make a difference in the world.

Find positive inspirational quotes and repeat them daily. 

Consider taking or learning the art of mindfulness.  

Face your fears. Ignoring, suppressing or numbing won't work forever.  

Last but not least – keep the faith and have hope that there are going to be better and brighter days ahead. 
Thank you, Candace, for all of the ways you encourage and inspire us to be more resilient. Our community is better because of you!