Dear Caregivers and Educators,
This collection of lessons about Black joy serves as a resource to promote the healthy identity development of Black and Brown children by uplifting Black joy and positive experiences. In a society that does not often prioritize the health, wellbeing, and wholeness of those in the Black community, it is in the ability to thrive in spite of adversity that joy becomes an act of resistance and demonstrates strength and resilience.
At AmazeWorks, we believe that fostering healthy identity development, learning to show respect across differences, and naming and taking action against instances of injustice all begin from honest, intentional conversations. We hope that these lessons can support you with these important conversations with the children in your life. We thank you for engaging in this difficult, yet invaluable work.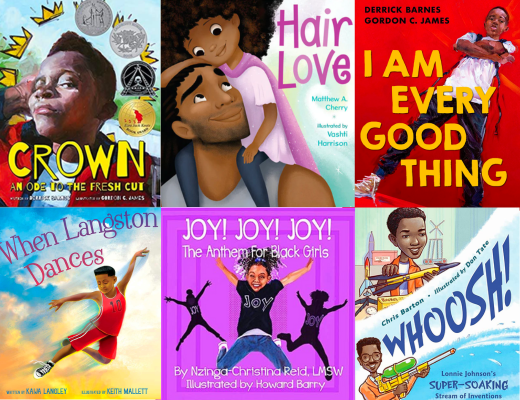 We also know the power of sharing stories. When we listen to each other's stories, we build empathy. This empathy is necessary if we want to shift our thinking from "them" to "us." When we take time to understand the impact of identity-based bias and discrimination, we are better equipped to stand up to it.
This work requires time and dedication. These books and lessons are a starting point. If you have additional questions or want more resources, continue to explore our website. 
In solidarity with all who strive for equity and belonging,
AmazeWorks
This resource includes lessons on the following books: Joy! Joy! Joy! The Anthem for Black Girls by Nzinga-Christina Reid, illustrated by Howard Barry; Woosh! Lonnie Johnson's Super Soaker Stream of Inventions by Chris Barton, illustrated by Don Tate; I Am Every Good Thing by Derrick Barnes, illustrated by Gordan C. James; Hair Love by Matthew A. Cherry, illustrated by Vashti Harrison; When Langston Dances by Kaija Langley, iIllustrated by Keith Mallett; and Crown: An Ode to the Fresh Cut by Derrick Barnes, illustrated by Gordon C. James.