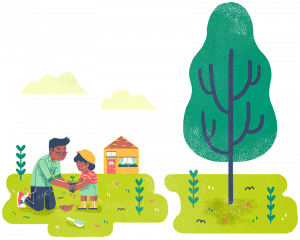 In celebration of Earth Day 2020, AMAZEworks chatted with Vikas Narula, Founder and Director of  Neighborhood Forest, a non-profit that provides free trees to elementary-aged children. Over the last 10+ years, Neighborhood Forest has reached over 150 schools and 60,000 families and has planted over 31,000 trees across the U.S. and Canada.
In addition to his mission to connect every child around the globe to the earth by planting a tree, Vikas is also helping organizations and businesses create connection and belonging for their employees through Keyhubs®, another organization he founded that maps social dynamics between groups of people. AMAZEworks partners with Keyhubs™ to bring this tool to schools, helping teachers understand the social relationships in classrooms from the perspective of students. With the AMAZEworks Classroom Dynamics™ program (powered by Keyhubs®), educators can provide additional support and interventions to create equity and belonging for all students.
We talked about trees and the environment. About what makes the earth healthy and beautiful. About access and justice. We talked about hope.
AMAZEworks: Tell us about Neighborhood Forest. What compelled you to start something so tied to the earth and our environment? 
Vikas: I have long loved trees, and then in college, I was part of an environmental club connected and inspired by an organization that gave away trees to plant for free. It was in this club that I planted my first tree. Fast forward a few years, I found myself in somewhat of a mid-life crisis, and I knew I needed to find a purpose to do more things that made me happy, that reduced stress and sickness, that gave me an opportunity to reflect. That's when I realized what I needed and wanted to do was to plant trees again.
So 11 years ago I reached out to 4 schools in Minneapolis and asked them if they wanted to plant free trees for Earth Day? And they answered, "Yes."
A couple years later, I built a website and got my family involved. My brother became the Director, and we started educating kids about trees. Within a few years, we were in 10-12 states. Last year, we celebrated 10 years of spreading joy by planting and watching something grow. We are now in 15 states, 150 schools, and have planted over 31,000 trees.
I'd like to reach as many kids as possible. Every child in the world is the dream. 
AMAZEworks: What do you hope for the children who plant trees in their neighborhoods?
Vikas: Tangibly, I hope that they, with the help of a caregiver, plant a tree and see that tree grow to maturity. That they see their tree provide shelter for animals, shade for homes in the area, and add beauty to their neighborhood. 
I hope that by planting a tree they realize that they are reducing their carbon footprint and providing cleaner air. That the benefits of trees extend far and wide. 
I also hope it gives kids an opportunity for connection by tending to and caring for something that lives beyond them – to see the longevity of their action through watching their tree grow to maturity. As well as teaching them something of vulnerability. The vulnerability of little trees and how to get them to the point where they can thrive.
I also hope that it creates a deeper awareness and sensitivity to how we treat trees and the importance of urban forestry. I hope that it brings meaning to their lives by creating a connection to the earth, to each other – a desire to care for one another and take care of one another. 
AMAZEworks: How does creating connection with the natural world and caring for our earth support social and emotional health – in children and adults?
Vikas: Planting trees, caring for them and nurturing them from seedling stage until maturity provides so many great metaphors. Statistically, there is a 50% chance each tree planted will grow to maturity. So we need to look at the barriers. Why aren't some trees able to survive? 
We can learn from trees. Trees are powerful teachers. A really powerful teacher. They teach us the importance of patience, of taking the long view. Humanity is the same way. We will have mistakes and setbacks, but if we keep going – through all the seasons, withstand the storms of life. With each passing season, it grows and becomes more beautiful and majestic. Just like the soil we plant trees in, our lives require a fertile place from which to grow. And it is only when we take care of ourselves and each other that we can reach our full potential. 
AMAZEworks: What do you see is the connection between the work that Neighborhood Forest does with planting trees and the work that AMAZEworks does with educators and creating belonging for all?
Vikas: We know that between trees there are threads and networks, tree roots, branches, connecting trees to each other and the earth.
I see teachers as this thread, this network. Teachers are doing the hard work of raising the future of humanity. They are caring for these seedlings so that they are able to spread their gifts.
Like a child planting a tree spreading goodness and life in their neighborhoods. Our teachers are spreading, tending to and nurturing seeds of goodness.
The more teachers are able to and supported in creating healthy dynamics in their classrooms, the more fertile the ground of experiences will be for students to be able to grow, to thrive, to reach their full potential. 
So for Earth Day, my hope is that we plant seeds and tend to the soil so that in time, a tree – a child – will give gifts that are beyond our wildest dreams. 
To register for a free tree for your child or register your school to be a free tree coordinator click here. https://www.neighborhoodforest.org/school-search/
Interested in learning more about social dynamics Keyhubs®? Watch Vikas Narula's Tedx Talk on the Power of Connection below.