Year in Review.
Despite the hardships of 2021, AMAZEworks continues to be a bridge to greater equity and belonging during these challenging times.
Our challenge of the past year and a half has been to be responsive to the changing landscape and needs of educators, schools, and organizations. Together, we are having brave conversations about addressing the structures and systems of racism and oppression that keep us divided, defensive, disconnected, and dehumanized.
State of AMAZEworks
Using our Anti-Bias Education model and Conditions for Belonging framework, we are shifting our educational approach. We are transforming our discrete curriculums/programs and one-off workshops for individual educators and schools into a more comprehensive systems change approach for schools and districts that includes deeper, ongoing professional development, program implementation support, and coaching/consultation around being an Anti-Bias Educator/Leader.
We have also significantly expanded our work with nonprofits, for-profit businesses, and community and government agencies both within Minnesota and across the US as more organizations grapple with what it means to engage with an increasingly diverse and global world. These organizations and institutions are recognizing the need to examine and reimagine policies, procedures, practices, processes, and patterns that are rooted in systems of dominance and oppression, and AMAZEworks supports them on this journey through training, consulting, and coaching.
As an organization of educators, we invite the adults we work with, whether they work with children or other adults, into a learning community with a mindset of transparency, humility, vulnerability, self-reflection, and growth. We help them articulate their personal and professional WHY for equity and belonging and give them anti-bias tools and resources to stay motivated and engaged in the hard work of individual, interpersonal, structural, and systemic change. 
We are proud of all that we accomplished last year. We experienced growth, formed and nourished relationships, and shared our learning. We want to name and celebrate our work and impact this year.
(We also know that in the midst of our growth, relationship building, and learning, we made mistakes. We realize that we did not always center belonging. We know we sometimes acted on our own biases in ways that caused harm. We missed deadlines, left emails unanswered, made comments that had an impact different from our intention. We also know that part of doing this work is being brave enough to face those mistakes and accept imperfection while cultivating resilience. That being said, we want to name and celebrate our work and impact this year.)
Celebrations
Persona Dolls: We released two new Persona Dolls, Amara and Daniel, and an updated Persona Doll curriculum guide with stories for all 12 dolls. In the past year, the Persona Doll program has greatly expanded into more schools and early childhood centers in Minnesota, California, New Mexico, Massachusetts, Washington, New York, Oklahoma, and Ontario, CA. Learn more about our Persona Dolls in this podcast with The Reflective Teacher!
| | |
| --- | --- |
| Persona Doll, Amara | Persona Doll, Daniel |
 Middle School: This fall, we released our revamped, online, modular Middle School Curriculum, which we have been refining and piloting since 2017. It focuses on various Anti-Bias Education topics, including anti-bias education foundations, conceptual building blocks, and race/racism, with plans to expand with lessons on gender identity, gender roles, sexual orientation, immigration, ability, and religious diversity.
Professional Development: We continue to develop our Anti-Bias Education workshops and trainings to better meet the needs of teachers as districts and schools focus more explicitly on addressing educational equity issues.
Financial Highlights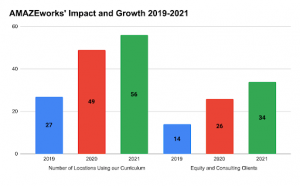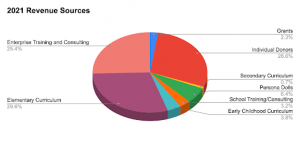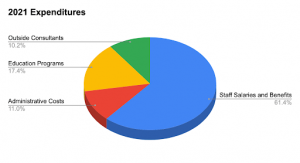 ---
Thank you to our Donors and Funders for helping us champion equity and belonging for all with your generous support:
Individuals
Tina Alvir-Romero
Faye Anderson
Yelena Bailey
Amanda Bartschenfeld
Sarah & Mick Bauer
Lauren Blacik
Liam Brannen
Jenni Bratulich
Pam Bryden
Monica Bryand
Estuardo Cabrera
Carrie Carroll
Allison Christensen
Rose Chu
Scott Coenen
Jane Connell
Kevin Corbid
Janet Dahlem
Lynn Daniels
Brooke & Mark Darst Rice
Jeff DeGree
Paula DeMars
Mary Dooley
Brianna Drugg
Susan Fitze
Charles Fitze
Jo Friedman
Geoff Gayle
Dennis Goetz
Julie Guidry
Kaitlin Hallett-Pugh
Julie Hawker
Jill Heath
Lori Hendrickx
Molly Henningsgard
Ronald Herrington
Anna Hoagland
Ken & Beck Hoagland
Wade Hoffman
Jenny Jendro
Debra Jendro
Laura Jepson
Carly Kinzler

Ryan Kroening
Leah Kuypers
Deanna Lackaff
Amy Lange
Karen Larsen
Deb Lavoie
Beverly Long
Kim Lund***
Kathleen Mathews
Sarah McCarty
Lisa McLean
Tammy Monistere
Alison Moore
Pete Moore
Elizabeth Morrissette
Beth Morrissette
Henry Moyers*
Vikas Narula
Heidi Norvold
Todd Olson
Steve & Vicki Palmquist
Amy Peisart
Terese Pritchet**
Justine Roe
Stephen & Kris Rose
Gbemisola Saunders
Linda Sen
Nancy Sen
Shilad Sen
Alison Sharpe-Havill
Rebecca Slaby
Emily Stacken
Elaine Steinbach
Connie Tanner
Beth Theobald
Susan Tomczak
René Tripeny
Sarah Tripple
Jennifer Wagenius
Laura Wake Wiesner
Anna Waugh
Barbra Wiener**
Anonymous (4)
Grants and Foundations
Bob and Diane Coderre Family Foundation*
Courageous Possibilities Fund of Headwaters Foundation**
Daniel and Alissa Abelson Charitable Fund*

John Larsen Foundation**
Mick and Sarah Bauer Fund
Otto Bremer Foundation**
Paypal Giving Fund
Organizations
Microsoft
The Blackbaud Giving Fund
*Championed equity and belonging with $1,000 or more
**Championed equity and belonging with $5,000 or more
***Championed equity and belonging with $100,000 or more
The AMAZEworks Board of Directors
Alissa Abelson, Board Chair, 2021
Tina Alvir-Romero
Yelena Bailey
Carrie Carroll, Board Secretary, 2021

Jenny Jendro
Ryan Kroening
Shilad Sen
Emily Stacken
We'd also like to thank the team of passionate experts leading and partnering with us to make us better and keep us learning:
Egohsa Awaah
DeMonte' Baker
Nicole Byrnes
Riva Cohen
Hope Davis
Nicole Devereaux
Daniella Embu
Irene Thompson
Regina Goldner
Hanna Haileyesus
Marcee Harris
Jenny Kordosky
Debbie Laurin
Eliana Lawrence
Brita Lawrence
Kristin Lynham
Jess Lyons
Rob Mallo
Lori McClellan
Kelly McKown
Stephen Michael

Sidra Michael
Nancy Michael
Anna Noble
Sherine Onukwuwe
Steve Palmquist
Vicki Palmquist
Maya Park
Malachi Raymond
Pia Richardson
Irak Saenz Rodriguez
Regi Santiago
Carlyn Shanley
Tina Van Erp
Pa Der Vang
Kevin Ward
Richard Webb
Candace Whittacker
Genesia Williams of Genesia Doing Things
Susan Woodbury
The Team at Neka Creative
---
Looking Ahead to 2022
We know we have more work to do. In 2022, we are revisiting our organizational values, expanding our anti-bias resources, and prioritizing the needs of educators. We are working on channeling self compassion, setting boundaries, increasing our capacity as individuals and as an organization, and more.
We are proud of the impact AMAZEworks has made on our local community and across the nation, and we look forward to continuing this work with all of your support. Thank you for accompanying us on this journey to champion equity and belonging in our communities. We are so grateful.
Belong with us
Staying engaged in this hard work of creating equity and belonging for all requires us to channel individual and collective resilience. As we focus on the needs of educators this year, we recognize that they need additional support to feel valued and empowered in this work. We invite you to stand with us in our commitments to build resilience and support educators during these challenging times. Help us bring belonging to life.
5 Commitments to Building Resilience: These habits help enforce the practice of showing up for ourselves so that we can also show up for others. Join us as we work to bring our best selves into 2022.
Center health and wellness: Tend to your own basic needs (security, belonging, power/success, freedom, fun) and support your community as they do the same. We cannot show up meaningfully for others if we do not first care for ourselves.
Listen: Listen to your body. What does it need from you? Listen to those around you. What support do they need? Learn from and seek input from others. Whose voices do you need to listen to, center, and amplify?
Hold compassion: Self compassion is a practice of emotional resilience and is a starting point for compassion for others. Commitment to compassion for self and others  is a commitment to change. Compassion lays the groundwork for deeper transformation at individual, interpersonal, institutional, and systemic levels.
Practice joy: We can't do the hard work of dismantling systems of oppression and creating more equity and belonging for all without also allowing for joy, pleasure, fun, and love. Where can you find daily pockets of joy to feed and sustain you? How can you set yourself up for experiencing these moments?
Be brave: Create a community of practice committed to brave space for intentional conversations about identity, difference, and bias with empathy and understanding. Being brave is not always comfortable. Lean into discomfort so you enter into deeper learning, growth, and authentic relationships with yourself, others, and your community.
5 Commitments in Support of Educators: AMAZEworks stands in solidarity with educators everywhere, especially during this continually challenging time. Join us as we imagine a future where educators are valued and empowered.
Show gratitude to all educators everywhere, including support staff and across all levels, early childhood through university. Send a thank you note or a gift card. Let educators know both publicly and privately that you are grateful for their work, time, energy, passion, and commitment to making a difference through teaching and education.
Show educators that they are seen, heard, and valued. Empower educators to take up space. In what ways are educators feeling powerless? How can you empower them to continue to share their needs and experiences?
Amplify the voices of educators and validate their experiences. How can you respond when they raise their voices? Listen to and advocate for educators in your community. What support are they asking for? How can you show up and communicate their needs and experiences with others?
Honor the expertise of educators, their knowledge, experience, and background. Recognize and defend the professionalism of educators as experts in the field of education and masters of the craft of teaching.
Donate to AMAZEworks so that we can continue to provide meaningful Anti-Bias Education resources and support through curriculum and professional development. Help us uplift educators by donating to our mission.
Thank you! We could not do this without you.